2.5L Deep Fat Fryer Chip Electric Non-Stick Pan & Safe Basket Handle With Window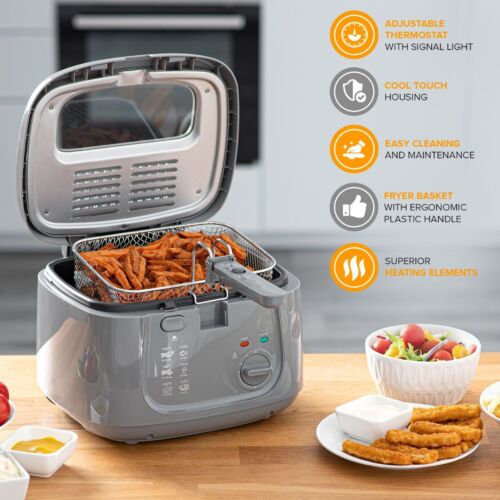 Category:
Home and Garden
Free UK Delivery
£ 44.99
Despatched Within:
1 Working Day
Estimated Delivery Time:
1 - 3 Working Days.
30 Day Returns
Secure Payments
Product Description.
LIVIVO 2.5L ELECTRIC DEEP FAT FRYER GREY Whether it's triple-cooked crispy and fluffy chips, authentic 'chip shop' fried fish, crispy chicken or cinnamon-dusted South American churros, the 2.5L LIVIVO compact counter-top deep fat fryer is the answer. With a non-stick coated surface, a generous 2.5L oil capacity, mesh frying basket with a plastic 'stay cool' safety handle and a convenient viewing window on the lid, say 'BYE' too dangerous hob-based frying and 'HELLO' too convenient counter-top convenience 2.5L OIL CAPACITY The large oil capacity ensures that once filled with fresh oil, even with regular usage it should not need changing for several weeks - making this hygienic and economical. Easy to clean and change the oil when required. DIGITAL CONTROLS With a fully adjustable and variable thermostat for fine-grain heat adjustments, and 2 bright LEDs for power status and temperature monitoring the advantages over a pan are many. ADJUSTABLE TEMPERATURE Not only can you safely set and regulate the temperature rather than guessing and ending up with frazzled food, but the LED indicator lights will also alert you when the oil is heating and ready to cook LARGE VIEW WINDOW The insulated plastic housing ensures the heat stays in the appliance, and away from the shell, making the LIVIVO fryer considerably safer than a pan of boiling fat. The basket handle also benefits from this stay-cool plastic, ensuring you can submerge and drain your items without oven gloves or dish towels. SAFETY LOCK The safety lock ensures the lid stays shut when engaged, keeping in the sparks and flavour, and keeping out curious fingers. You also won't have the safety worry of a possible chip-pan fire to deal with. COOL TOUCH HOUSING Bypass most of the spitting and splashing that comes from deep-frying on the hob, by viewing your cooking foods through the large viewing window. FOLD-AWAY HANDLE When not in use, the stay-cool handle folds away, minimizing the footprint of the unit. Oil level and cleanliness can be checked without releasing the safety lid through the convenient viewing window TECHNICAL SPECIFICATION The 2.5L oil capacity is more than enough to cook 1KG+ at a time. The powered draw is 1800w at maximum, with a 0.7m cord length, standard UK AC 220-240v/ 50Hz
Similar Products.