2FT Pre-Lit Christmas Tree Green Fiber Optic LED Lights Xmas Home Holiday Decor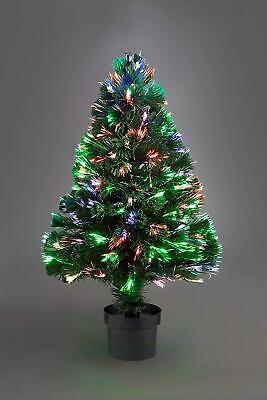 Free UK Delivery
£ 24.99
Despatched Within:
1 Working Day
Estimated Delivery Time:
1 - 3 Working Days.
30 Day Returns
Secure Payments
Product Description.
Material: PVC Size: 2Ft (From base to top) Width: 30cm Tip Counts: 66 Tips Colour: Green (Tips) Mode: Flashing only/Off Box Contain: Tree, Pot base, Adapter Low Power Consumption: Input: 230-240v, 50Hz Output: 12v, DC, 500mA Features: Built-in Fibre Optic Light: Creates a soft glow around the tree with three colour combinations, providing a gentle lighting effect for an amazing festive atmosphere. Stable Design: Completed with a cute plastic pot, keeping the tree stable and upright. The full-figured design supports the weight of hanging ornaments and tinsel, making decoration easy. Changing Light Effect: The multi-coloured Christmas tree features branches covered with hundreds of tiny fibres, creating a visual feast. The light is gentle and festive, adding a fantastic atmosphere. Eco-Friendly Material: Premium PVC material makes the tree look real and full, adding anti-crush capacity for durability. Easy Setup: Simple and quick assembly and disassembly, requiring only a few steps. Put the branches and metal stand together, plug it in, and turn it on. Low Power Consumption: Gentle Lighting: Creates a soft glow with lower energy consumption. Convenient Storage: Simple & Quick Assembly & Disassembly: No tools needed. Comes in a Strong Storage Box.
Similar Products.