Air Fryer 3.6L 1500W 80-200° Dishwasher Safe Airfryer Black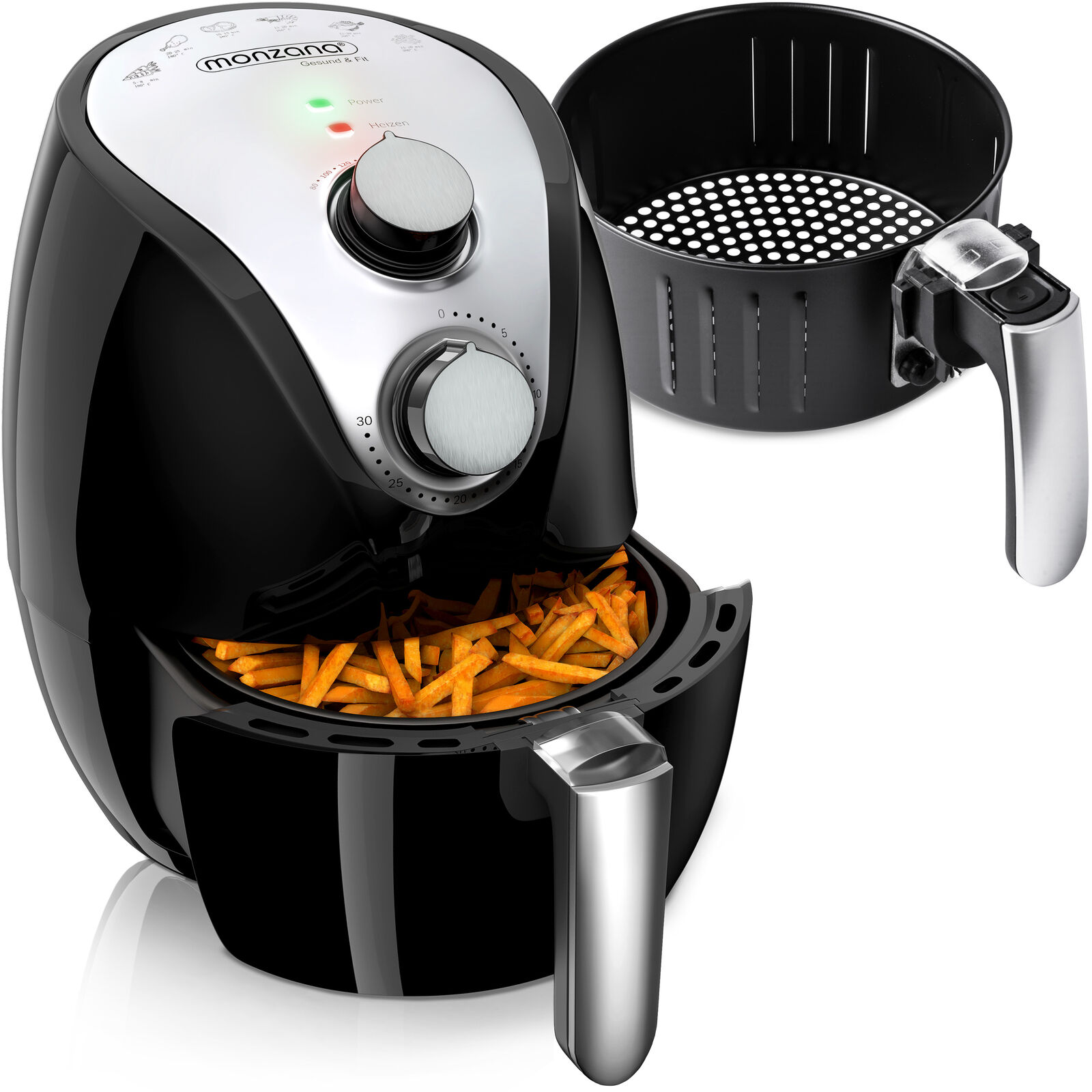 Category:
Home and Garden
Free UK Delivery
£ 79.99
Despatched Within:
1 Working Day
Estimated Delivery Time:
1 - 3 Working Days.
30 Day Returns
Secure Payments
Product Description.
Cook healthy and low in fat! In the air fryer, food is prepared in a stream of hot air, rather than in fat or oil, just like in a convection oven. The cooking chamber of the hot air fryer works extremely effectively and is up to operating temperature in no time. As a result, the deep fryer consumes little energy and is therefore an effective way of gentle food preparation. 9-in-1 hot air fryer: Deep-frying, grilling, roasting, baking, braising, heating, thawing and keeping warm. Low fat and healthy: In the air fryer you can prepare fat-free or low-fat. Even french fries don't need oil to be tasty and crispy. Versatile: Whether cooking, baking, grilling, roasting, hot air fryers are extremely versatile and offer countless possibilities in the kitchen. Easy cleaning: Quick cleaning thanks to removable individual parts that can be conveniently stowed in the dishwasher. No fat management! Thrifty: Save time and energy! The short heat-up time and the effective cooking space enable short preparation times. Product advantages: large 3.6 ltr. Cooking space high power 1500W max. high quality stainless steel S304 heating element High-speed air circulation technology Non-stick coating More crispy thanks to the circulating air and ventilation function with optimized airflow Cool-touch housing and handle Product details: Brand quality with stepless timer setting: 0-30 minutes Stepless temperature setting: 80-200 ° C Removable, non-stick coated insert tray Unlocking button of the frying basket with safety cover to prevent accidental loosening 2-stage double security for increased security Immediate stop if the frying basket is accidentally removed during operation LED indicator light (for power level and temperature) automatic shutdown Signal at the end of the program Stainless steel basket insert, non-stick coated easy to clean thanks to removable, dishwasher-safe parts economical due to the short heat-up time Anti-slip feet for a safe stand Technical specifications: max. input power: 1500W Rated power: 1350W Cooking space: 3.6 liters Collecting sieve: 2.7 liters Housing material: polypropylene Material heating elements: stainless steel (S304) Colour: Black 1x hot air fryer 1x drawer 1x basket insert
Similar Products.