Air Fryer 10L Digital 1500W Oil Free Healthy Cooker Kitchen Frying Low Fat Oven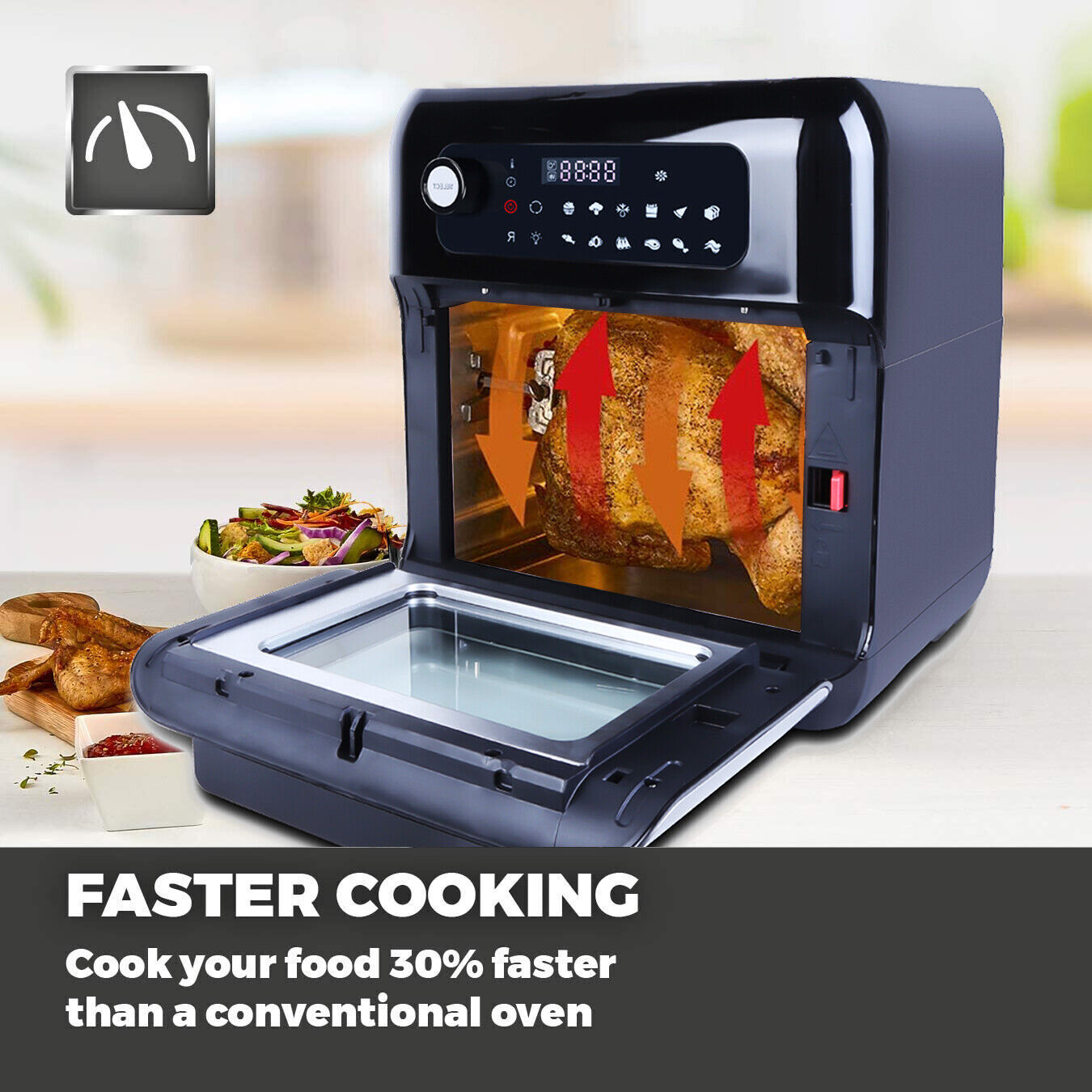 Category:
Home and Garden
Free UK Delivery
£ 134.99
Despatched Within:
1 Working Day
Estimated Delivery Time:
1 - 3 Working Days.
30 Day Returns
Secure Payments
Product Description.
[12 modes] Can choose to fry, bake, roast veggie, pork ribs, corn on the cob, cupcake, toast, pizza, fries, steak, fish, shrimp, reheat, chicken wings, chicken legs. Thanks to the hot air circulation system and The unique combination of perfect temperature and time allows you to cook food evenly and gently, so the outer surface is crisp and the inner layer is juicy and tender. [Convenient and efficient] The clear LCD display has 12 pre-programmed programs, touch screen control, you can also manually set the temperature and preparation time by the knob. The circuit protection system can make the machine working process safer.When the body temperature is greater than 240-250 degrees Celsius, it will automatically enter the standby state. [Meet various needs] The capacity is 10L, which can provide healthy and low-fat dishes for many people! Very long selection interval: bread function 2 ~ 8min, dried fruit function 1 ~ 24 hours, defrost function 10 ~ 120min. Extremely wide temperature control range: 30 ~ 80 ℃ for dried fruit, 30 ~ 60 ℃ for defrosting, 80 ~ 200 ℃ for other cooking functions. It can almost meet your needs. [Perfect Design] 1. Built-in lighting which can be turned on or off to facilitate better observation of the cooking status of food. 2. The countdown will close automatically and there will be a reminder when it is about to end. 3. Double layer heat resistant tempered glass door can keep all the heat inside the device when cooking. [Perfect Gift] Uten electric cooker, bring delight to your family and friends. Uten is committed to providing quality products and customer service. If you have any questions, please feel free to contact us. We will actively solve problems to satisfy customers. Specification Material: PP + 304 stainless steel Voltage: 220-240 V 50/60 HZ Power: 1500W Capacity: 10 L. Operation method: key Application scenario: kitchen Product size: 39.5 * 39.5 * 45cm Weight: 9.9 kg Package includes 1 x 10L electronic touch screen 1 x collecting tray 1 x mesh shells 1 x rotating cage 1 x frying fork 1 x picking folder
Similar Products.