Air fryer Yaiza - 4.3 l capacity - Recipes booklet included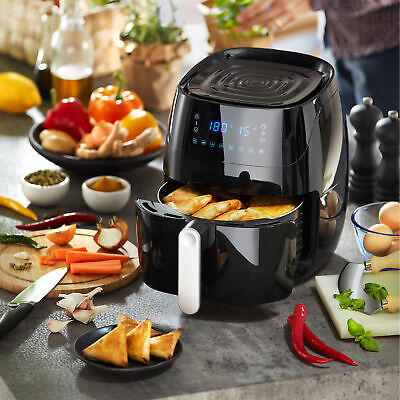 Category:
Home and Garden
Free UK Delivery
£ 94.99
Despatched Within:
1 Working Day
Estimated Delivery Time:
1-3 Working Days.
30 Day Returns
Secure Payments
Product Description.
Powerful fryer with six preset programs Heat-resistant plastic housing with an intuitive touchscreen Ideal for frying, grilling, roasting, baking, defrosting, heating and keeping food warm Up to 70% less oil required Rapid heating through high-speed air circulation Removable, non-stick coated frying basket Four non-slip rubber feet for a secure stand Automatic switch-off after the end of the program Easy to clean Includes recipe booklet with 29 dishes SGS certificate I certificate number GS/21/HEL/02013 Technical details Total dimensions (WxDxH): approx. 28 x 37.5 x 32.5 cm Cooking space capacity: 4.3 l Handle (LxW): approx. 14 x 3.5 cm Timer control: 0 - 30 mins Temperature control: 80 - 200°C Power: 1500W Voltage: 220-240V Frequency: 50Hz / 60Hz Cable length: approx. 120 cm Weight: approx. 4.2 kg Material: Polypropylene (housing), stainless steel with aluminum coating and non-stick coating (basket); Polyamide (handle), polycarbonate (display) Colour: Black Air fryer Removable frying basket Recipe book Operation manual
Similar Products.