CIT Phantom Gaming PC Case mATX Tower 4x ARGB Fans Tempered Glass Meshed Panel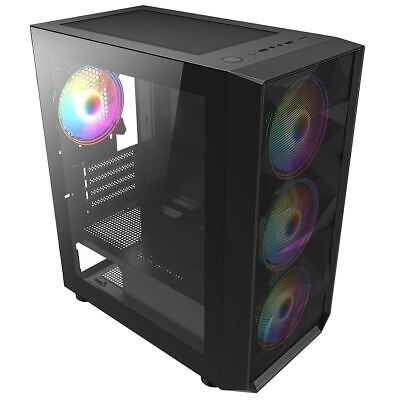 Free UK Delivery
£ 66.99
Despatched Within:
1 Working Day
Estimated Delivery Time:
1 - 3 Working Days.
30 Day Returns
Secure Payments
Product Description.
The Phantom from CiT is a stylish and high airflow Micro-ATX case. Featuring a full mesh front panel with a polygonal-shaped design to give the Phantom that extra punch! Featuring a full mesh front panel and three ARGB LED fans ensures maximum air intake with ventilation on the top, bottom and rear enhances the airflow throughout the chassis. Magnificent cooling support with Pre-installed ARGB LED intake & exhaust fans and space for another two fans, making it six fans available to install. Control manually thanks to the built-in controller inside one of the front fans or ARGB Sync compatible. The hinged tempered glass panel that is screwless has been designed to give you easy access to the interior and the interior is completely black, the enclosed PSU shroud contributes to a tidy look. Spacious storage space available with five hard drive positions and three radiator positions available with a 360mm maximum you can fit at the front and Three USB ports located on the I/O finish this case off nicely. Key Features High Airflow, Stylish Front Panel - The front panel of the CiT Phantom is a stylish & unique one with a polygonal-shaped design and made entirely of mesh provides ample airflow into your system for more efficient cooling and exquisite looks. Cooling Support - Four factory installed ARGB fans are pre-installed and with support for another two fans Top: Space For 2 x 120mm Fans. This Micro-ATX casing also can fit a 360mm radiator at the front, a 240mm radiator at the top and a 120mm radiator in the rear of the case. ARGB LED Fans - The four ARGB fans that are pre-installed are available with approximately 30 colour LED combinations, simply plug in the power and using the LED button easily switch between the LED modes and enjoy the visual experience. Motherboard Sync - Take your colour to new levels with the included Aura Sync Cable, easily connect the 3 Pin AURA to a 5V 3 Pin connection on a compatible motherboard and you can use the mobo software for system-wide lighting synchronization. Tempered Glass Panel - CiT have made the Phantom so easy to build in and featuring a solid tempered glass side panel with a hinged door design, screwless, making it even easy to build inside. MATX Chassis - From Mini-ITX to Micro-ATX Motherboards are compatible, graphics cards up to 325mm in length and CPU Cooler up to 165mm in height can fit into the Micro-ATX housing, making this the perfect case for enthusiasts. Specifications Chassis Dimensions (Excluding Fascia / Panels): (W) 201 x (H) 410 x (D) 330mm Fan Controller Included: Yes Fan Controller Power Via: SATA Connector LED Controller: Yes - LED Button Supported Qty of Fans (Max.): Daisy Chain Supported Qty of LEDs (Max.): Daisy Chain Fan Information: Fans Powered Via: 4 Pin Proprietary LEDs Powered Via: 4 Pin Proprietary PSU Max. Length (mm): 195mm Packaging Type: EPE Foam Packaging Thickness: 23.77mm Case Specifications Form Factor: Micro ATX Motherboard Support: Micro ATX, Mini ITX PSU Support: Standard ATX PSU Location: Bottom Gaming Case: Yes Water Cooling: Water Cooling Ready! Supported Radiator Size: 240mm Supported Radiator Positions: Front, Top Body Material: 0.5mmSPCC Front Bezel Material: ABS & Mesh Side Panel: Tempered Glass Internal Cable Management Depth: 20mm External Bays: Internal Bays: 2 x 3.5" Internal 3 x 2.5" Internal Drive Bay Notes: 1 x 2.5" shared with 1 x 3.5" Expansion Slots: 4 x Full Size Cooling Front: Space For 3 x 120mm or 3 x 140mm Fans (3 x 120mm ARGB Fans Included) Cooling Top: Space For 2 x 120mm Fans Cooling Rear: Space For 1 x 120mm Fan (1 x 120mm ARGB Fan Included) Cooling Side: None Cooling Bottom: None IO Ports: 1 x USB 3.0 2 x USB 2.0 1 x HD Audio 1 x Microphone GPU Max Length: 325mm CPU Cooler Maximum Height: 165mm Front Bezel Colour: Black Body Colour: Black System Cabinet Features: PSU Included: No
Similar Products.