Uten Air Fryer 6.5L Power Oven 1800W Cooker Oil Free Low Fat Frying Chips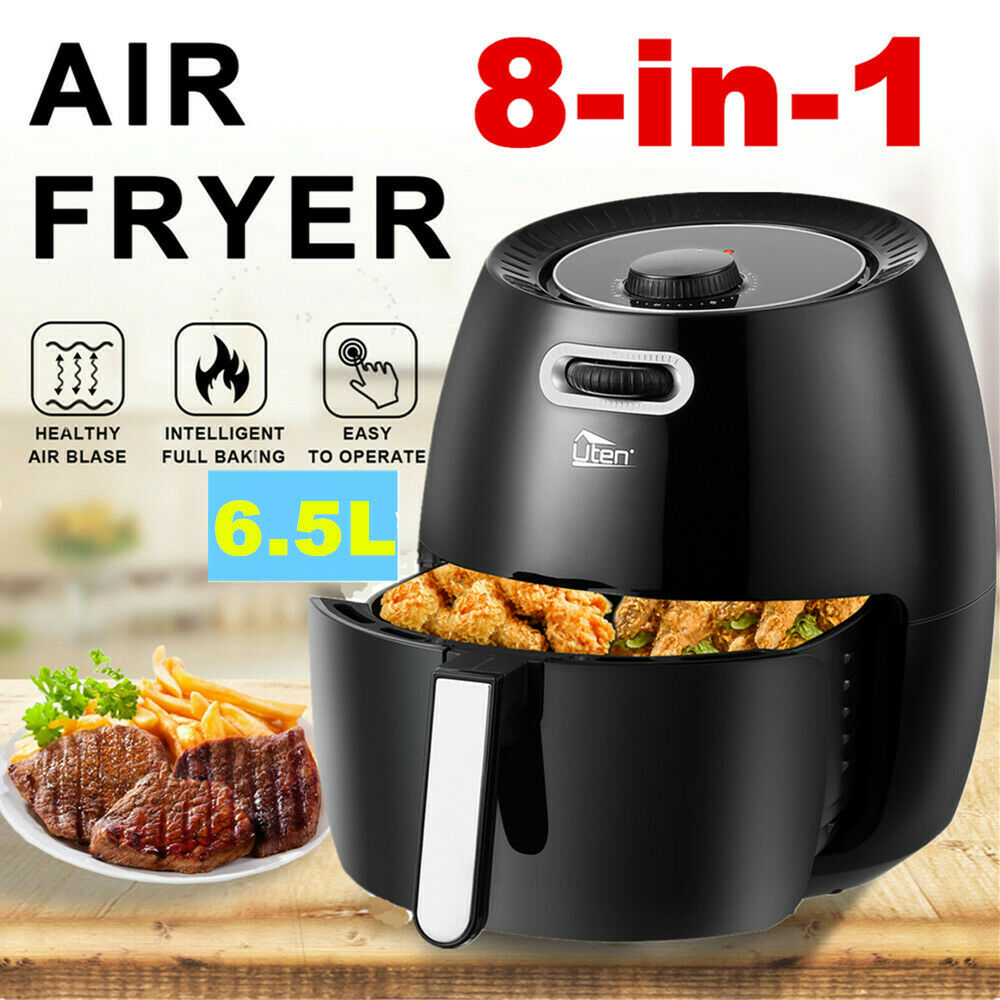 Category:
Home and Garden
Free UK Delivery
£ 109.99
Despatched Within:
1 Working Day
Estimated Delivery Time:
1-3 Working Days.
30 Day Returns
Secure Payments
Product Description.
LARGE CAPACITY 6.5L AIR FRYER: Are you worried that the small fryer below 4L is not enough? Don't worried now! Uten fryers have 6.5L basket that completely solves this problem, the XXL size is perfect for the family and the party, Which is the only choice for your Love and family. HEALTHIER COOKING: This Uten 6.5L Air Fryer is the ideal way to reduce fat intake in your meals. This air fryer has great air circulation which means that food cooks evenly whilst reducing up to 80% of fat when compared to traditional fryers. Due to the great convection of this air fryer, your food will cook to a crisp and crunchy perfection every time. 8 In 1 Cooking: 8 In 1 Power Air Fryer allows you to CHIP, CHICKEN, STEAK, SHRIMP, MEAT, CAKE, PIZZA, FISH, which is the best menu for your family. Cook all your favorite meals mess and hassle-free by choosing from preset cooking modes that cook a perfect meal. TIMER AND TEMPERATURE CONTROL: This air fryer comes with a fully adjustable temperature control which ranges from 100°C - 200°C and a timer which ranges from 0-30 minutes. This ensures that you stay in full control of cooking time and performance, meaning you can get perfect results every time. ESAY TO USE: This fryer basket is designed with a catch at the switch to ensure maximum safety when you are using this product. This catch also ensures that the air fryer basket is easy to remove and clean - the basket is also dishwasher safe. Healthy Stainless Steel Material: Air fryer is specially formulated and designed with a food-grade 304, no chemical coating, PFOA-free & BPA Free. We are proud to be one of the few brands that serve high quality, food-safe air fryers. MODERN DESIGN: This air fryer comes in a sleek black colour and is finished with a brushed stainless-steel trim. This means it will look great in your kitchen and, due to its compact shape and size, will easily fit on your kitchen worktop. Advanced and Safe settings: Enjoy the completely secure operation by air cooker with inbuilt over-heat protection and auto-off sensors, so you can cook completely worry free. Seniors even kids (over 14 years old) can smoothly operate the Uten air fryer. Make a better life.Fryer design:this is a closure design with buckle, it is to prevent the pot from falling out by gently moving the pot handle during use or shaking during the movement.
Similar Products.