Wireless Trucker Headset Bluetooth 5.1 Earpiece Dual Mic Noise Cancelling Earbud (Electronics)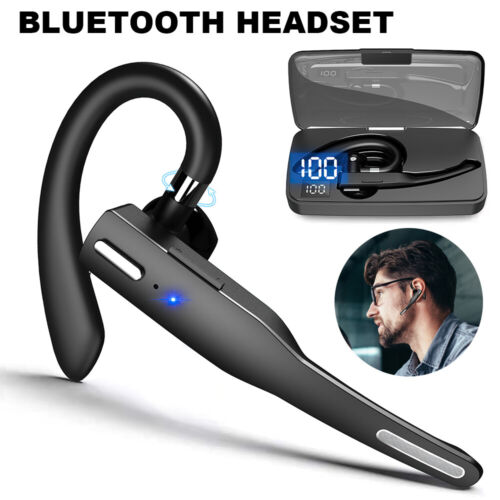 Free UK Delivery
£ 21.99
Despatched Within:
1 Working Day
Estimated Delivery Time:
1 - 3 Working Days.
30 Day Returns
Secure Payments
Product Description.
1.Dual-Mic CVC8.0 Noise Canceling & Clear Sound: The wireless headset combines 2 built-in HD microphones and designed with advanced CVC8. 0 noise reduction technology, which blocks out disruptive background noise like wind, traffic or crowds and the background sounds you might hear, offering crystal clear audio and natural sound, allows you to enjoy high quality music and clear phone calls wherever. 2.48H Ultra-Long Playtime with Charging Case: Built-in 500mAh charging case, it can not only protect the Bluetooth earphone from damage, but also provide 3 charging times for the wireless earpiece, which is easy to carry and charge your earphone at any time without worrying about the Bluetooth earbud running out of power. When single headset is fully charged, it can be used 12 hours of continue talk time. With the portable charging box, you will get 48hrs playing/talking time. 3.Bluetooth 5.1 Stable Connection: Hassle-free Bluetooth headset can be connected to 2 devices at the same time, it provides fast and stable pairing with any Bluetooth device, like iOS or Android smart phones, tablets, laptops, MP3 players from up to 33 feet away without signal loss or music dropouts. Stable Bluetooth headset for cell phones. 4.Freely Angle & Comfortable Wearing: This Bluetooth wireless earpiece is designed to fit in either ear.The angle can be adjusted freely and will be worn stably. Flexible 180° rotatable ear hook and retractable 270° boom mic and rotates for a comfortable fit. No more burden on ears even after wearing it for a long time. 5.Hands-free for Calling: This Bluetooth headset with mic supports Siri assistant. Easy-to-reach buttons let you manage the music and call hands-free. Specification: Item Type: Bluetooth Earpiece Bluetooth Version: V5.1 Noise Canceling : CVC8.0 Battery: 500mAh Talking Time: up to 12H Form Factor: In Ear Waterproof: Life Waterproof Support System: All Bluetooth Devices and Mobile Phones Package Included: 1 * Bluetooth Headset 1 * Charging Case 1 * Charging Cable 1 * User Manual
Similar Products.