Milkshake Maker Machine 500ml Ice Cream Smoothies Protein Shakes Cocktail Cup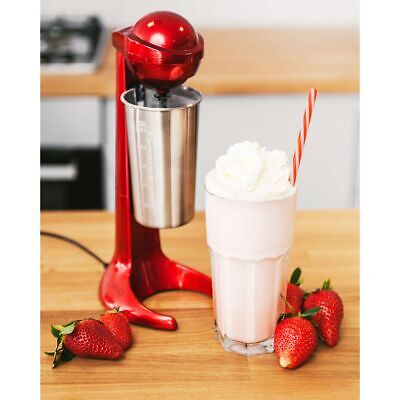 Category:
Home and Garden
Free UK Delivery
£ 36.99
Despatched Within:
1 Working Day
Estimated Delivery Time:
1-3 Working Days.
30 Day Returns
Secure Payments
Product Description.
The retro style Milkshake Maker by LIVIVO will have you whipping up creamy milkshakes, ice cold frappes, protein shakes, malt drinks and more. Today, milkshake machines are not just found in diners. Smaller versions are becoming a favourite dessert-making appliance in many home kitchens. Favourite milkshake flavours include chocolate, strawberry and vanilla, but when you have your own machine, everything from mango and coconut to peanut butter and marshmallow is possible. Powered by a 100-watt motor and comes cup capacity of 500ml, with a safety switch which prevents operation without the cup in place. Not only is this great for drinks but can also be used for mixing pancake batter, eggs and much more. Milkshake machines have no blades; therefore, they are safer than blenders since there is less risk of injury. This machine has one job, and the user-friendly controls are made to accomplish it without the aid of complicated settings or buttons. Additionally, if there is a leftover product, you can leave it in the chilled mixing cup and give it to customers like an old-fashioned soda fountain. If you use a blender, the leftover product must be poured into a different container, usually uncooled. This LIVIO Milkshake maker is durable and last many years. This machines are made of stainless steel, die-cast metal, and chrome, and include a powerful motor that won't burn out as blenders do with excessive use. A LIVIVO high-performance milkshake maker can whip up other types of creamy drinks, including fruit smoothies, frozen coffee creations, and fresh fruit-filled milkshakes. You can even add pieces of cookies, nuts, or candy to the machine to make a sweet treat with something a little extra inside.
Similar Products.