Switch Pro Bluetooth Turbo Controller - TYMAG - Light Blue / Light Green (Nintendo Switch)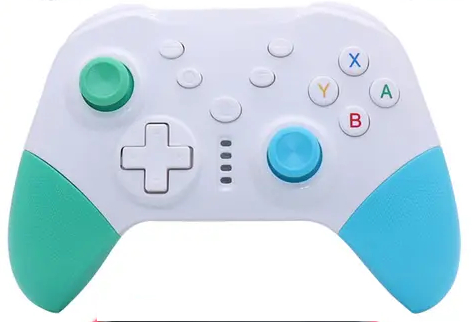 Category:
Games and Consoles
Free UK Delivery
£ 17.99
Order by:
9am Tue 3rd October
For Delivery By:
Wed 4th October
30 Day Returns
Secure Payments
Product Description.
Turbo burst function setting: Press and hold any button A/B/X/Y, and then press the "Turbo" button, the corresponding button will turn on burst mode The Turbo burst speed can be adjusted in three levels: Press and hold the "Turbo" button, while performing right 3D upwards, and adjust the burst speed in a three-speed cycle of fast, medium and slow Turbo clear burst settings: Press and hold the "Turbo" button, press and hold any button A/B/X/Y, repeat the operation twice to clear; you can also press and hold the "Turbo" button, and then press the "-" button to clear Burst function for all settings Motor speed adjustment: Press Turbo + 3D on the left, or long press 3s L1 R1 L2 R2 to adjust the vibration and adjust the motor strength. It is divided into three gears: strong, medium and weak. Interface type: USB-C Vibration method: Vibration Compatible Platform: for Switch / Switch Lite / PC / PS3 / Android Connection method: Wireless BT Material: ABS Additional function: Six-Axis Gyroscope Charging time: 3 hours Working time: 10 hours Host sleep: 60s Package Included: 1 x Gamepad 1 x USB Cable 1 x User Manual NO RETAIL PACKAGING
Similar Products.