Wireless Pro For Nintendo Switch/Lite/OLED, Windows PC, iOS, Android Controller (Nintendo Switch)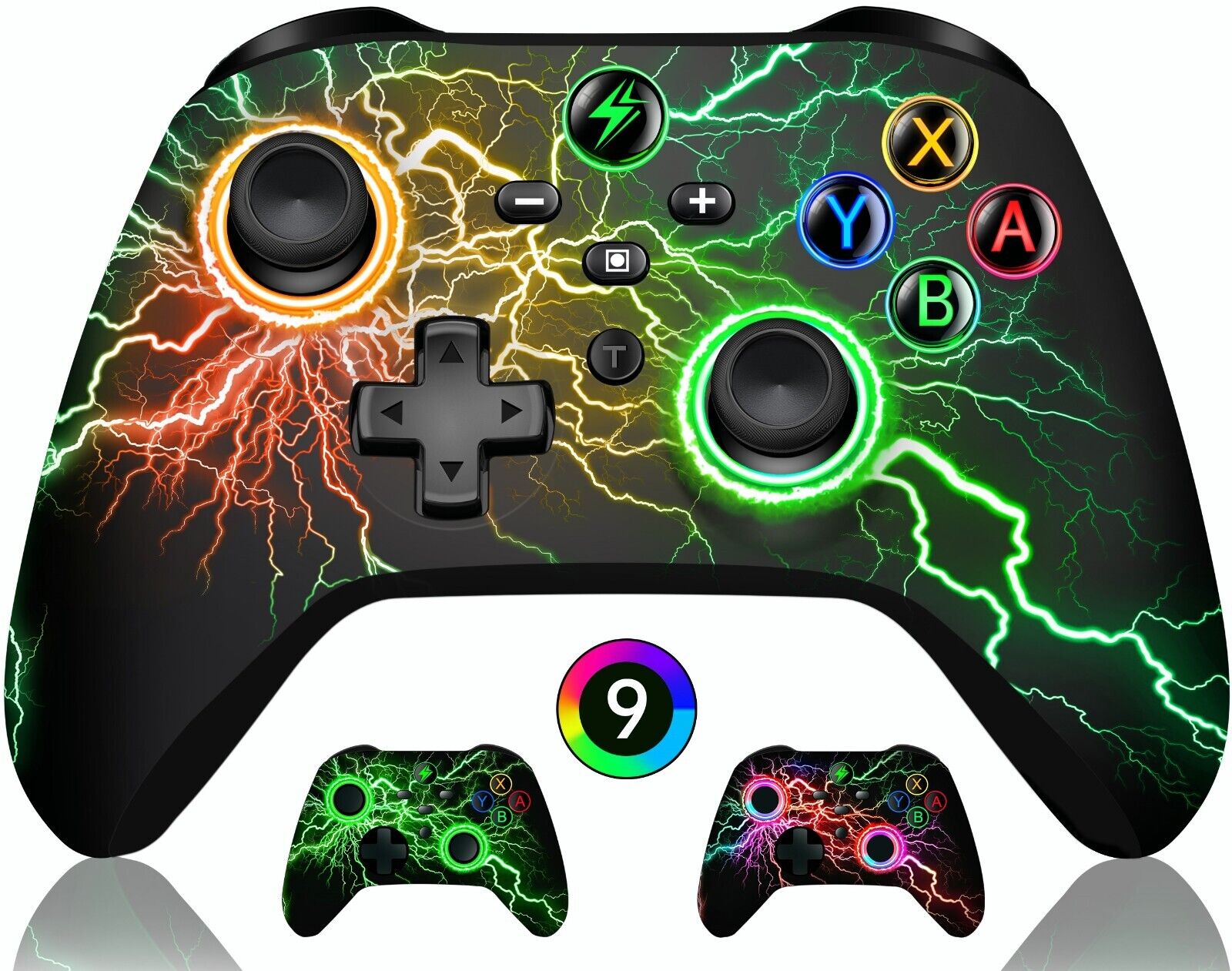 Category:
Games and Consoles
Free UK Delivery
£ 39.99
Despatched Within:
1 Working Day
Estimated Delivery Time:
1 - 3 Working Days.
30 Day Returns
Secure Payments
Product Description.
🎮​【9 COLORS LIGHT & 4 LED MODES 】Innovative design wireless switch controller with an additive color model that reproduces a broad array of colors by combining different intensities of red, green, and blue light, which form a cool game lighting atmosphere. There are 4 different light models of Solid LED lights, Breath LED light, RGB LED Joysticks and RGB LED off model. Allow you switch the color models according to different games to immerse yourself deeply in your games 🎮​【COOL RGB REMOTE FOR MULTI-PLATFORM】Breath RGB Switch Pro Controller is fully compatible with devices Nintendo Switch/Lite/OLED, iOS MFi, Android HID Model, and Windows 7/8/10; There are 2 WAYS CONNECTION: ①Wireless connection for Nintendo switch games, iOS MFI games(IOS 13.0 and above) Android HID games; ② Wired connection for PC games that support X-Input and Steam, only support USB wired connect to PC model(Windows 7 and above). 🎮​【CUSTOM BUTTONS & ADJUSTABLE TURBO FOR ALL MUTIL-PLATFORM】M1/M2 back buttons can map basic function keys of A/B/X/Y/L/ZL/R/ZR/L3/R3/D-pad keys to reach 1-16 combine function keys, to meet all your need in different game to improve game experience. Two modes of Mapping: ①single programming mapping;② multiple programming mapping. Support Auto TURBO/Manual TURBO mode. You can set TURBO+A/B/X/Y/L/R/ZL/ZR to meet your need. There are 3 adjustable speeds: 5shots/s, 12 shots/s and 20 shots/s. 🎮​【VIBRATION FUNCTION ONLY FOR NINTENDO SWITCH/WINDOWS PC】Built-in dual vibration motors with 4-level vibration feedback: None, Weak, Medium and Strong. which provide you excellent vibration feedback to enhance the game immersion in switch games and windows pc computer games. 🎮​【MOTION CONTROL & ONE KEY WAKE-UP ONLY FOR NINTENDO SWITCH】Built-in 6-axis gyro sensors provide stability and direction by sensing motion caused by vibrations, that help you make a quick response in your Nintendo switch games. Support One Key Wake Up your switch console, Press "Y + HOME" button for first connection. Next time just simply press "HOME" key to wake up and re-connect your device. 🎮​【800mAh HIGH CAPACITY & LONG BATTERY LIFE】The wireless controllers for switch built-in 800mAh battery which provide more than 16 hours playing time on RGB LED lit mode, you can enjoy longer game playing without interruption, only need 3 hours to fully charged with an included USB type c fast charging cable
Similar Products.