5.5L Air Fryer Cooker Oven Low Fat Healthy Oil free Frying Kitchen Non-stick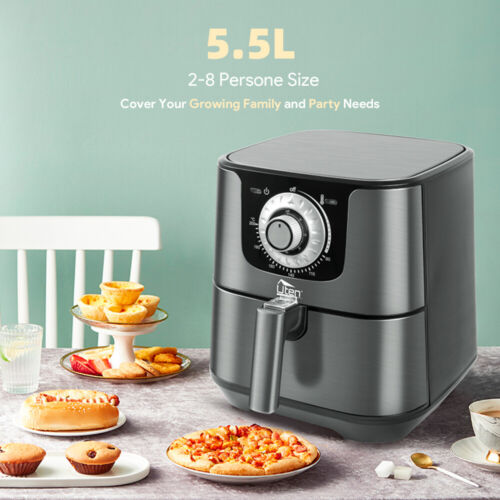 Category:
Home and Garden
Free UK Delivery
£ 69.99
Despatched Within:
1 Working Day
Estimated Delivery Time:
1 - 3 Working Days.
30 Day Returns
Secure Payments
Product Description.
🍗 Large Capacity & Efficient Heating Air Fryer Are you worried that the small fryer below 4L is not enough? Don't worried now! Uten fryers have 5.5L basket that completely solves this problem, the XXL size is perfect for the family and the party, Which is the only choice for your Love and family. 🍟100% HEALTHY AND LESS FAT 80% This Uten 6.5L Air Fryer is the ideal way to reduce fat intake in your meals. This air fryer allows you to fry, bake, grill, and roast with little to no oil. It will provide you 80% less fat food but same delicious as traditional fried food. Make crispy fried chicken steak, French, fries, pizza and much more in this air fryer. Enjoy your favorite food without the extra calories. 🍗WITH SEPARATE BASKET Our goal is for healthy cooking to not only be quick but also simple. The detachable fry basket has been,cleaning simple and hassle-free. It is also 100% dishwasher safe! The fryer has a removable frying basket to better separate the food from the oil. This is a good choice for people who love health! 🍟 EASY TO USE Temperature and Time Control-Auto-switch off timer (0-60 mins) and adjustable temperature setting (0°C-200°C) can help you to cook your food without oil in variety way, Fry, grill, bake and roast, steam, and food dehydrate all in one. Additional instructions recipes can help you make wonderful foods easier. 🍗 Muti-Functions Air fryer The multi-temperature and time design of the fryer can help you cook a variety of foods. Such as French fries, steak, pizza, sausage, fried chicken, etc. In addition, recipes are also included in the package. The instructions recipes can help you make wonderful foods easier. 【Separate basket】 1) It is easy to install and remove the frying bucket, fried blue, etc., and can not scratch the internal aluminum tank and plastic parts; 2) The timing switch and the temperature adjustment switch can be entered normally, turning naturally, and there should be an obvious hand feeling when turning; 3) Functional test: Connect the product to the rated voltage; put the frying basket, frying bucket, etc. into the furnace, the maximum stable power is 1700W (-10%~+5%): A: The time can be set freely within 0-60 minutes. b: The temperature can be set freely within 200℃. 【Product cleaning】 Unplug the plug, wait for the product to cool, wipe the outer surface of the product and the bottom of the oven cavity with a damp cloth, and the detachable parts such as the frying basket can be taken out. Please wipe clean with a damp cloth.
Similar Products.